Trackmania World Tour Stage 1 isn't over yet. This weekend, 16 teams will play the Promotion/Relegation event to know who will play in the Trackmania Challenger League 2023 Stage 2!
Only two spots are available for the upcoming Trackmania Challenger League Stage 2! Exalty (link-MiQuatro) and IziDream (Cocow-Worker) who finished 7th and 8th from TMCL Stage 1 will battle it out against the best teams from the Regionals tournaments to try to keep their spot in the World Tour's second division.
The 8 best teams from Europe, as well as the 6 teams from Asia-Pacific, Middle-East & Africa and Americas will compete to take Exalty and IziDream's slots. Will they be able to beat them?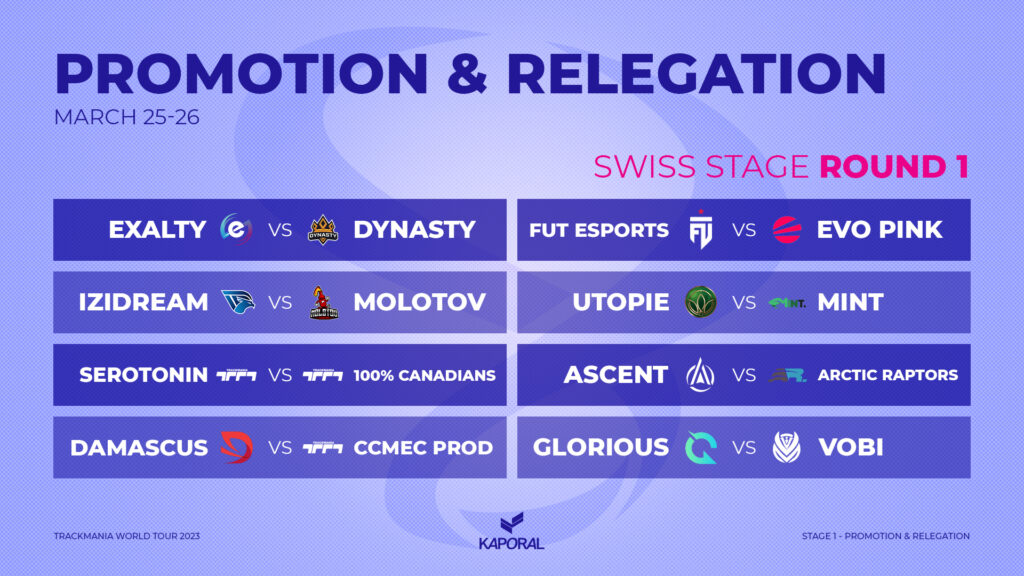 All 16 teams will compete in a Swiss stage on Saturday March 25th from 4 PM CET against other teams within the group. If a duo wins three matches during this stage, it will advance to Playoffs the following day with 8 teams remaining.
Playoffs are played in a single elimination bracket on Sunday from 4 PM CET. The 2 teams qualified for the Grand Final will secure their spot for the upcoming Trackmania Challenger League Stage 2!
We expect a very intense event with 16 teams that are all very hungry to take part in the next TMCL season. Alongside link, MiQuatro, Cocow and Worker, we also find some former Challenger players like NRGZ (Arctic Raptors), TheDarkWix (Utopie), Razii (MINT), Nixtotica (Damascus), Haedra and Vulnerra (CCmec prod).
The event will be broadcast on Trackmania's Twitch channel as well as usual teams' steams!
Tags: TMGL , trackmania , Trackmania Grand League