Who will join the 8 Trackmania Grand League teams for the Middle Stage? The Wildcards phase ends this weekend, so let's look at the participating teams!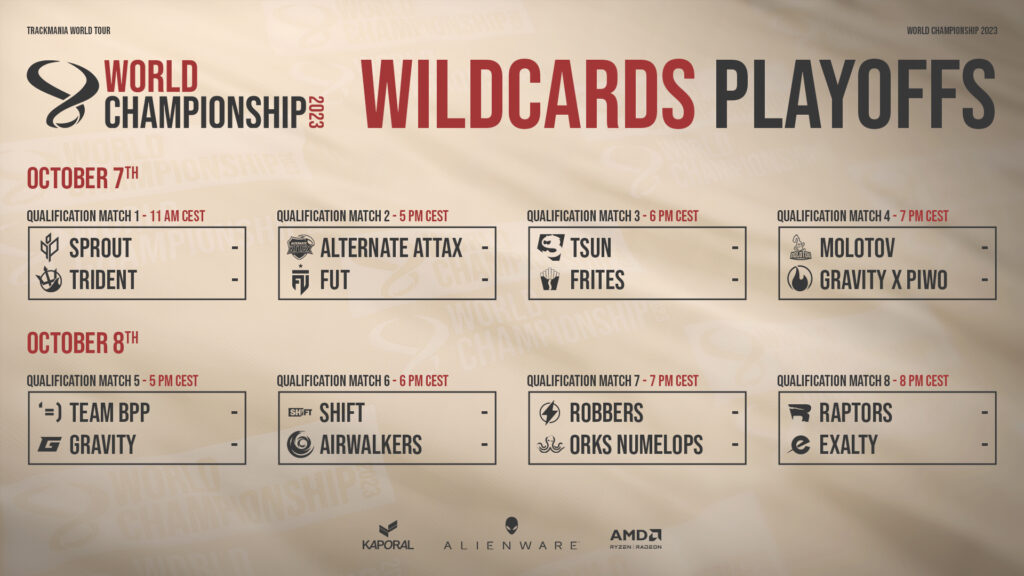 Seven matches will be played on Saturday and Sunday October 7-8 as SHIFT (Imot-NuPrime) forfeited giving the Middle Stage slot to Airwalkers (Stufts-Whizzy).
Sprout (DexteR-Scrapie) vs. Trident (baiwack-JSwag) will be the first match of the Wildcards Playoffs on October 7th at 11 AM CEST. Sprout has more experience and managed to win all their Wildcards games so far, beating Antic Esports and GxP. However, Trident is a serious contender. The team from New-Zeland forms the last Asian Oceanian team standing and they will need to defeat two former TMGL players to keep their World Championship dreams alive!
At 5 PM CEST, Alternate aTTaX (SkandeaR-Wosile) will face the most powerful team of MEA: FUT Esports (Birdie-Cemko). This could be one of the most interesting games to follow, with 4 very talented players. The TMCL Stage 1 winners have a slight advantage, but FUT could do anything on a good day.
Tsun (Ener-Feed) is the 3rd TMCL team to play on October 7th, facing Frites E-Sports (Rasg-Maxtrak) in a French-speaking game. Can they beat the team who finished 3rd twice in a row this year in TMCL? Ener and Feed are both capable of managing pressure during important matches, which could be crucial in this single elimination game.
Saturday's last match will be Molotov Gaming (Ignite-Huso) against GxP (Betatoast-Henkan67). Molotov Gaming managed to take Seed 1 after beating TMCL team Exalty in Group H two weeks ago. They can count on their recent good results to give them an extra boost of motivation against GxP, who are taking part in the Wildcards phase thanks to their Last Chance qualification!
Team BPP (Legu-Pusztitopako) will face Gravity (Jan-marsili) on Sunday October 8th's first match. BPP is one of the only 2 teams that didn't lose a single track against their Wildcards opponents (CCMEC & FUT). A dominant performance from them, but Gravity could create the surprise, as the German team almost beat TMCL winners, Alternate aTTaX, in a very intense match (4-3 win for ATX) a few days ago.
Last Chance Qualifier winners Robbers (Epos-Razii) need to beat other TMCL winners to continue their World Championship journey: orKsGP Numelops (Complex-Panda). The French organization struggled a lot in the Wildcards phase, being beaten 4-0 by SHIFT, and finally securing their Seed 2 after an intense fight against Ici Japon Corp. Robbers-orKsGP Numelops is undoubtably one of the most unpredictable games of these Playoffs!
As BPP, Raptors (NRGZ-Sheinimi) has been extremely dominant in Wildcards as they didn't lose any track. The French duo will meet two very experienced players: link & MiQuatro from Exalty! Raptors has a better momentum, but Exalty can match their pace. This will also be a very interesting match to follow. There's no more room for mistake if these teams want to continue their Trackmania World Championship journey and qualify for the Middle Stage alongside TMGL teams!
Tags: trackmania , Trackmania World Championship , Trackmania World Tour , Ubisoft Nadeo