The culmination of the Trackmania World Tour 2023 will be marked by the World Championship Final Stage.
We also share news that World Tour 2023 is the last one to be produced by Ubisoft Nadeo.
We're thrilled to unveil the highly anticipated Trackmania World Championship Final Stage, set to unfold from November 24th to November 26th. After a series of intense competitions, the top 8 qualifying teams have emerged:
Alliance (Mudda & Soulja)
Berlin International Gaming (GranaDy & Massa)
Gamers First (Binkss & Gwen)
Into the Breach (Affi & mime)
Karmine Corp (bren & Otaaaq)
Split (Epos & Razii) (New!)
Solary (CarlJr. & Pac)
Wylde (Stufts & Whizzy) (New!)
We're also very happy to announce the addition of two new organizations, Split and Wylde, in the event. A warm welcome to Epos, Razii, Stufts, and Whizzy who are stepping into this level of the competition for the first time.
Get ready for a thrilling event as the Final Stage unravels in two captivating phases:
Group stage. The 8 teams will be divided into two groups, each consisting of 4 teams. Within these groups, teams will engage in a competitive GSL-like bracket format, facing off against other teams within their respective group. The top 3 teams from each group will qualify for the next stage.
All matches will be played in Best-of-Seven (BO7).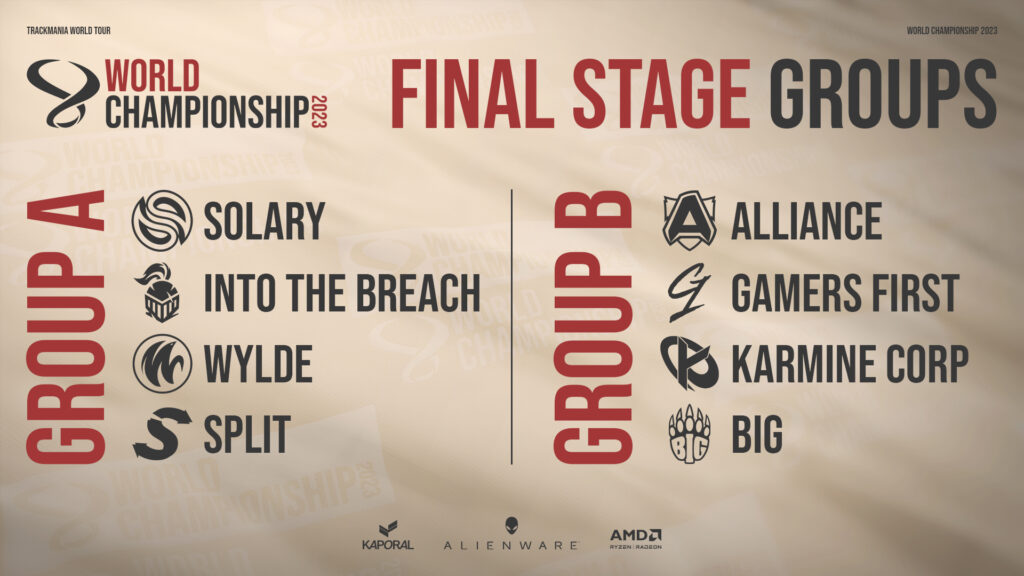 Playoffs. The World Championship Playoffs will be played in 6-Team Single Elimination Bracket. The top team from each group stage secures a spot in the Semi-Finals, while the second and third-place teams go head-to-head in the Quarterfinals.
All matches will be played in Best-of-Seven (BO7) except the Grand Final which will be played in a Best-of-Nine (BO9).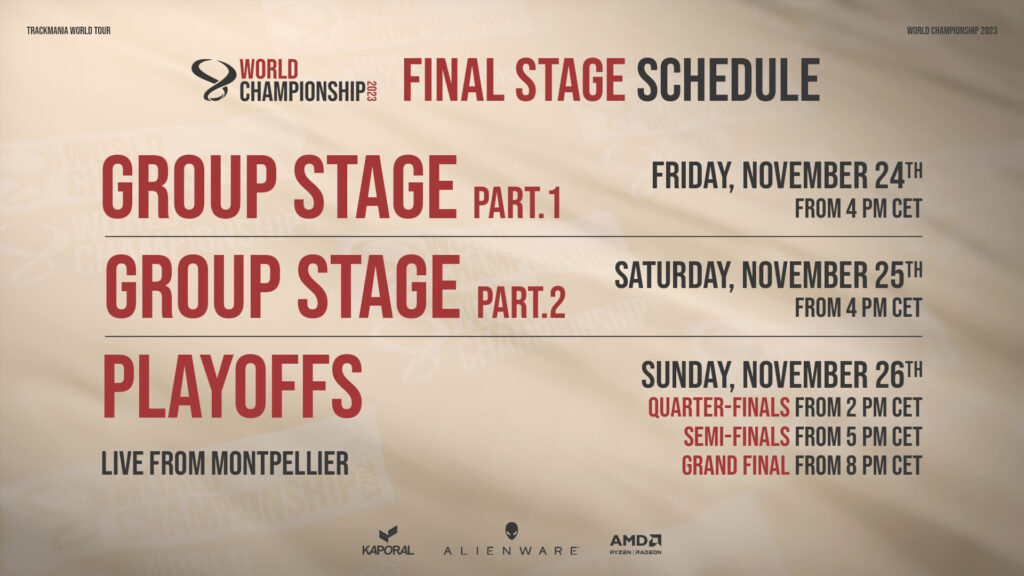 The event will take place in Montpellier, France and will be organized by ZQSD productions in their broadcasting studio, with the support of our three esteemed partners: Kaporal, Alienware and AMD. We thank them a lot for their trust and enthusiasm in joining the Trackmania adventure.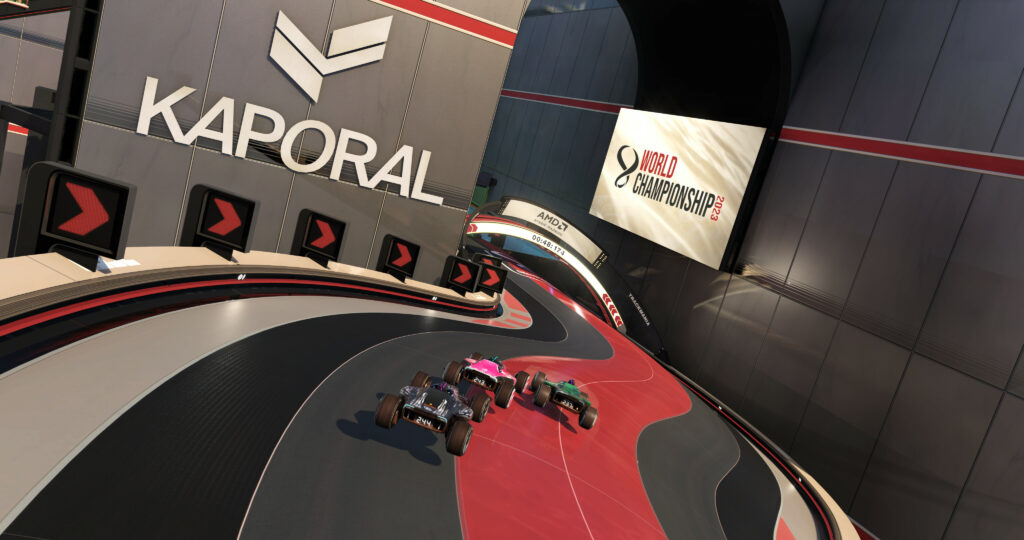 We also would like to share the news that the studio will not be producing the Trackmania World Tour in 2024. The esports ecosystem is increasingly qualitive but demanding and Ubisoft Nadeo must refocus on its core activity of content development. These last four years have seen an active involvement of many people, and we would like to thank them a lot for playing a significant role in this venture.
We believe this could mark the beginning of a new chapter for the future, like Trackmania experienced in the past thanks to key people outside of the studio. With the support of Ubisoft Nadeo, these individuals created new events, at crucial moments, such as ESWC, Trackmania Cup and Pro League, just to name the biggest ones.
As of now, Ubisoft Nadeo extends best wishes to all teams, players, streamers, and spectators for a fantastic show starting on November 24th! Since there is no on-site audience, we invite everyone to connect online, encourage and cheer for their champions! Catch the entire event on the Twitch channels of Trackmania and teams' streamers.
To learn more about Trackmania Esports please visit our website www.trackmania.com/esports, and follow us on https://twitter.com/TMEsports
Tags: Nadeo , TMWT , trackmania , Trackmania World CUP , Trackmania World Tour , Ubisoft , Ubisoft Nadeo